Sod Installation
Sod Installation & How to Install Sod in Athens, Georgia
Sod installation services are now offered here at AthensGrass.Com. Our professional landscape contractors offer a wide variety of  skills and experience installing sod grass. All lawns are different and proper ground preparation is crucial when you decide to install sod. Sometimes topsoil is needed to help break up that stubborn Georgia red clay. Not all sod grasses can take a good rooting in the clay soil found around metro Atlanta and the Athens Georgia area.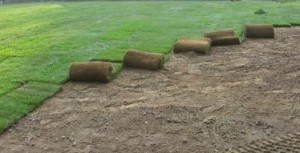 Pallets of Sod
After you have determined where you would like to have the new sod installed, take a good measurement of the area. Sod comes on pallets, and how many square feet on a sod pallet varies based on which sod farm the grass comes from. Most types of sod come with at least 500 sq. ft. per pallet. It is simple to determine how much sod you will need, buy using simple math as your sod calculator. Take the total square foot of the area being sodded, then divide that amount by the quantity that comes on the sod pallet. For example: I have 5,000 square feet of area to be covered, and I want to use Bermuda sod. I know Bermuda Sod Pallets have 500 sq. ft. per pallet. Therefore, 5,000 / 500 = 10 pallets of sod needed.
  Installing Sod
Once you have determined how much sod you need, then you must properly prepare the area for installation. Sod installation is a process that can be labor intensive. Some customers wish to lay the sod themselves, but keep in mind our Athens sod company is happy to help with both commercial and residential sod installations. DIY sod installation can save you a little money, but inexperience can be time costly. One thing to consider is this, each pallet of sod weighs around a ton or 2,000 lbs. With that in mind, 10 pallets of sod is like moving 20,000 lbs of dead weight.
Ready for New Sod ?