Sod For Sale
Where are pallets of sod for sale near me?
It's simple, you can now buy sod locally here at your Athens Georgia Sod Company.  We both install and deliver grass in Athens Georgia and surrounding cities. Watkinsville, Bogart, Jefferson, Braselton, and Winder are some of the neighboring cities we are proud to serve. Whether you are looking for Bermuda, Zoysia, or Centipede turf grass we are happy to help with your next landscaping project.
Click Here To Order Sod – Contact Us.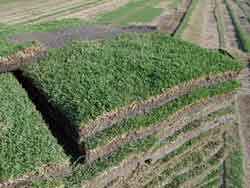 How much sod comes on a pallet? 
Not all grasses come in the same size pallets. Bermuda grass generally comes with about 500 square feet per pallet. This is pretty standard, because it is harvested with a thin cut at the sod farm. Centipede grass is very similar and these sod pallets have five hundred sq. ft. pet pallet.
Zoysia grass requires a thicker cut, therefore it weighs more. Due to the added weight of the sod, and the extra thickness, most zoysia sod pallets have 450 sq. ft. per pallet.
Where can I buy sod?
Ordering sod is easy. Give us a call to discuss your options. We sell and deliver all types of grass. Bermuda, Zoysia, and Centipede grasses are top sellers in north Georgia. If you are not sure which north Georgia turf is best, we can help. Every lawn is different, so allow an experienced professional help you measure and suggest the best sod for your lawn.
How much does Sod Installation Cost?
The price of sod will vary based on the type and the quantity needed. Always be sure to get an accurate measurement before ordering sod. It is also just as important to purchase the right sod for your lawn. Finding the best sod here in Georgia requires consideration of several factors. Amount of sunlight, water conditions, foot traffic, and maintenance requirements are all crucial elements to consider before ordering your new sod.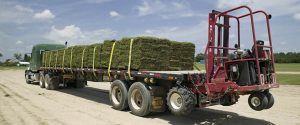 Ready to Purchase Sod?